Exhibition tour details are provided below in the second part of the page, with selected news items above in the first section of this page. You can also find further news updates by visiting our Facebook Page
---
Exhibition Touring
Anti-homophobia educational partnership with the Just a Ball Game? organisation
Bournemouth and Poole College group visit Stonewall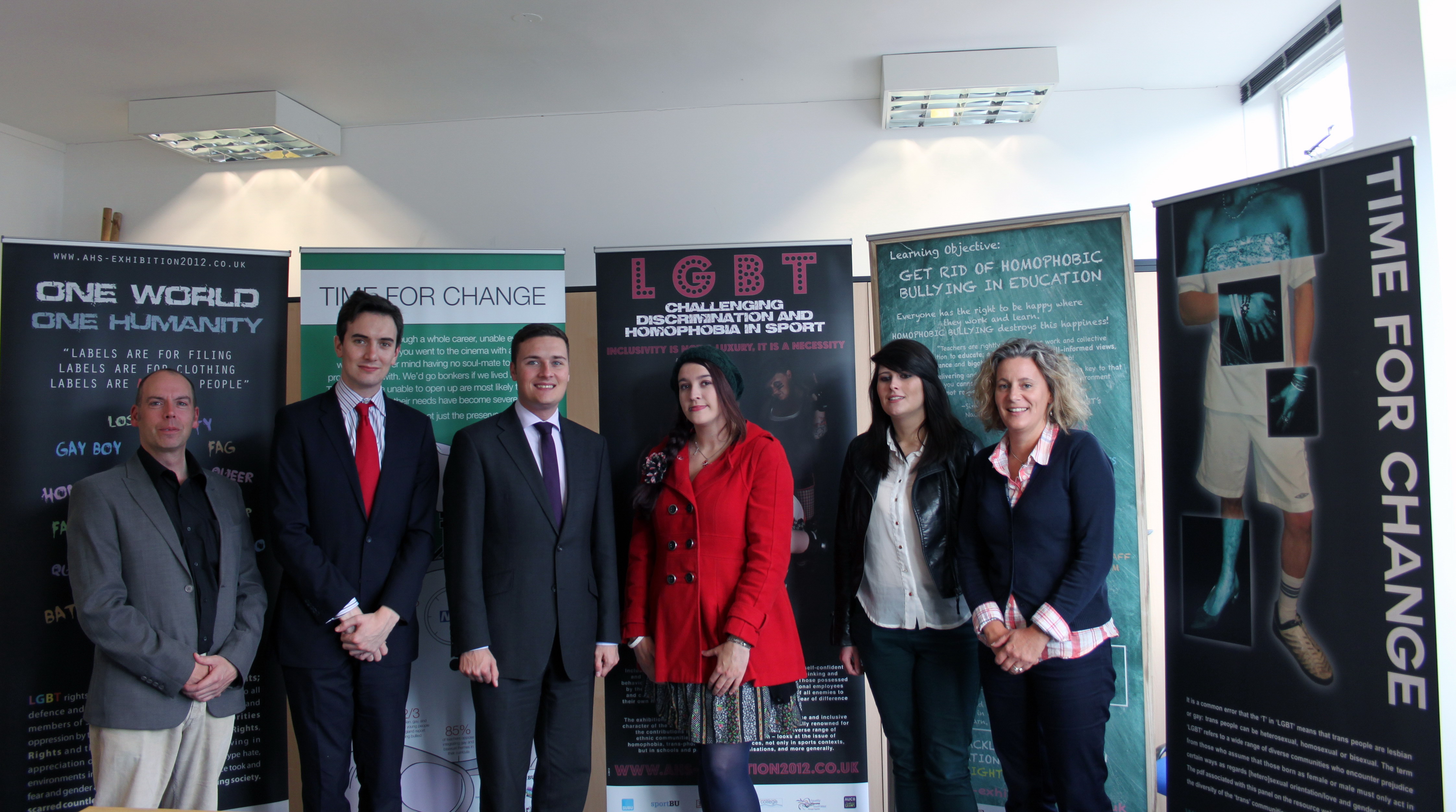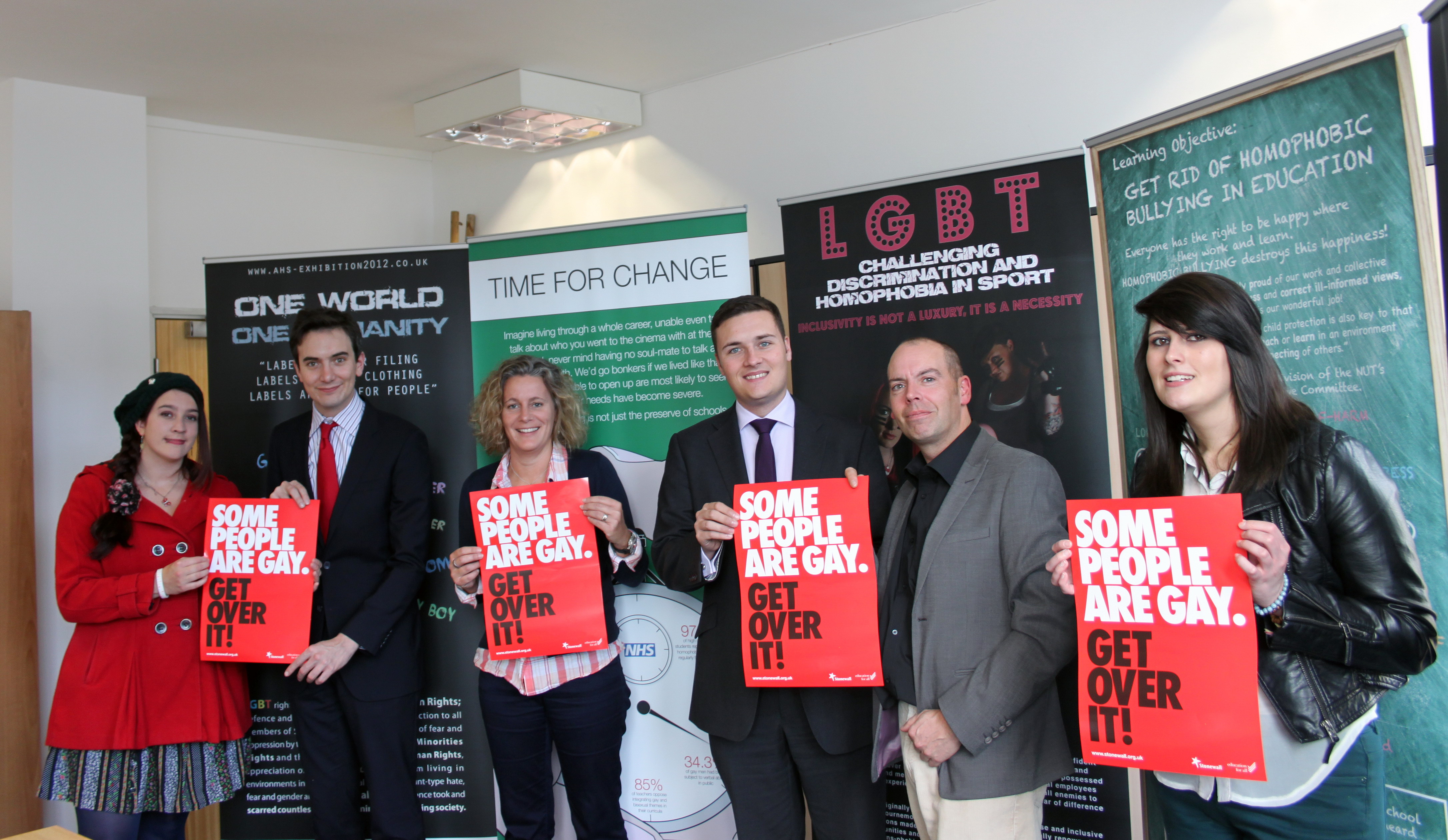 Teacher co-leads and students visit Stonewall in recognition of their contribution to the anti-discrimination work of the project: In the picture Wes Streeting and Luke Tryl (Stonewall Education Section Lead, and Senior Education Officer)
Exhibition panels were included as a feature at the Dorset HealthCare University Foundation Trust (DHUFT) Annual Members Meeting and Awards Ceremony

Celebrity presenter, Karen Hardy (Strictly Come Dancing) featured with Jonathan Walsh (DHUFT Chairperson) and other key figures such as DHUFT Equality Lead (David Corbin) and Gail Taylor (DHUFT Secretary) with Alan (Exhibition Project Lead) in the set of images above from the event.

The support shown through the photos, of the DHUFT and of Karen Hardy for the important equality and anti-discrimination work of the project was as appreciated as it was symbolically highly valuable in sending out the message that tackling homophobia and transphobia in public service organisations and more generally is not a luxury, but a very serious priority!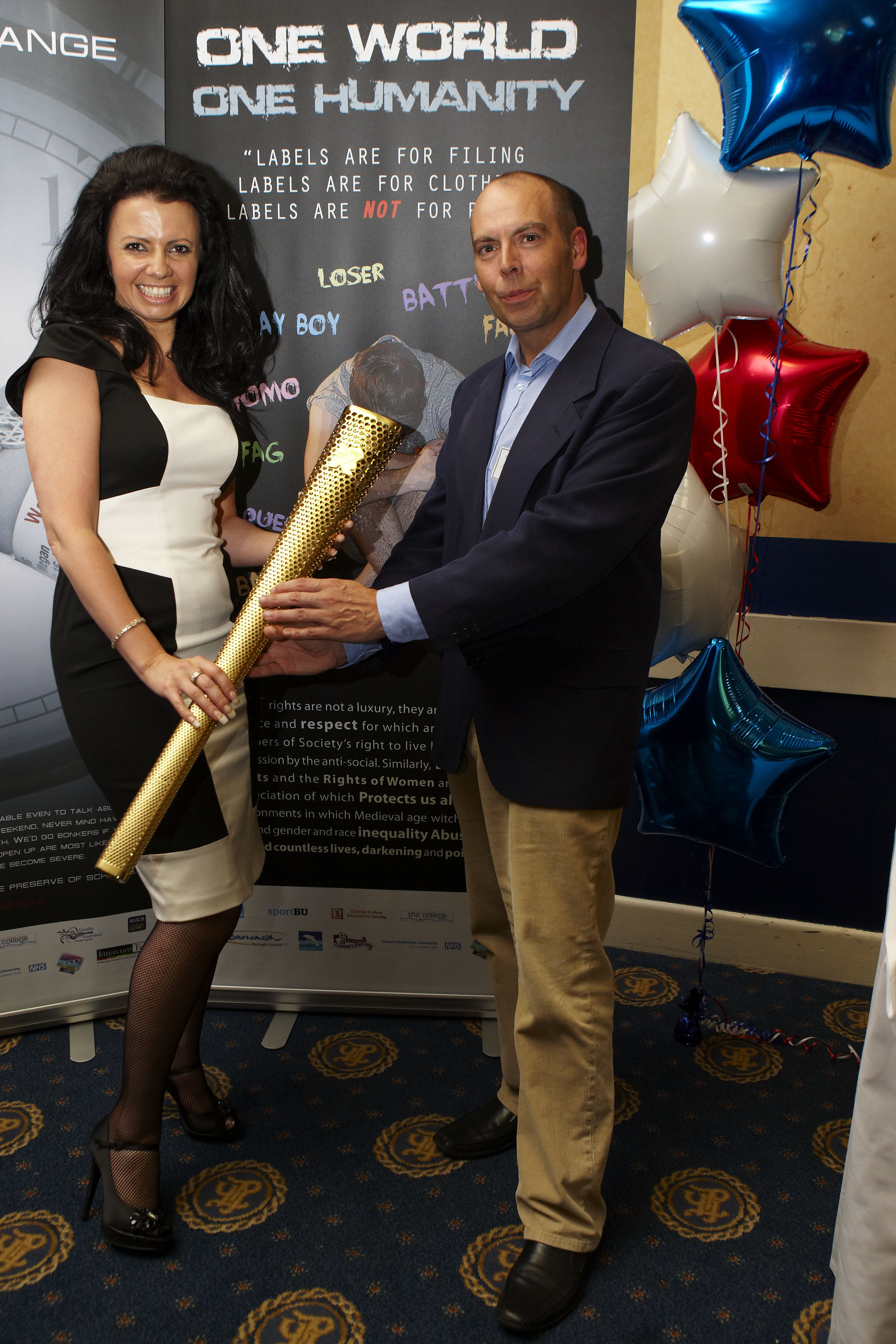 Some exhibition touring details from 2012
● Bourne Free Festival (late July): The exhibition panels were displayed at the festival at the Space Youth Project Kiosk, and subsequently by Space at the Anonymous Youth Festival and Dorchester Love Parade.
We are delighted to work with Space Youth Project because of their dedicated work, and in October they commissioned a further set of exhibition project panels for their continued use at public and other events.
● The exhibition panels collection were a major and very well received feature of the Bournemouth & Poole College's Art and Design Department end of year review
● Two representative sports-related panels were shown on the 13th July on the occasion of the Olympic Torch passing through Poole:
On this occasion Mr Michail Sanidas NHS South of England Equality and Human Rights Lead travelled to view the exhibition at the nearby Bournemouth & Poole College's Art anhd Design Department, meeting students and teacher leads to congratulate them on their contribution to anti-discrimination work through the project.
● The exhibition launch took place on 7th August and was displayed for two weeks at Bournemouth Library
In addition:
● NHS themed panels material were showcased at the National LGBT Health Conference held at the University of Kent (Canterbury) on 13th-14th September, where project lead Alan Mercel-Sanca was a co-lead at a Sports and Discrimination workshop in conjunction with Scott Cuthbertson (from Scotland's Equality Network)
● The exhibition panels will be shown on World AIDS Day 2012 in a number of locations, including football matches and other venues in the north of England and at Manchester, through a partnership with the 'Just a Ball Game?' Anti-homophobia in football organisation, led by Lindsay England – we are delighted by this partnership and to be associated with the very important national and international campaigning work of Lindsay and JBG!
Further details of exhibition touring in early 2013 in locations across the country will be provided soon!